Introduction:
At some point, we need to earn revenue through our application. We can monetize our application for removing ads, selling physical goods, providing some enhanced functionality to users. We can follow different monetization strategies that depend upon our application.
Using Google Play Billing:
 According to android documentations-
You can use Google Play's billing system to sell the following types of digital content:
One-time products: A

one-time product

is a content that users can purchase with a single, non-recurring charge to the user's form of payment.




One-time products can be either

consumable

or

non-consumable.

Subscriptions

: A

subscription

is a product that provides access to content on a recurring basis. Subscriptions renew automatically until they're cancelled. Examples of subscriptions include access to online magazines and music streaming services.
Note: Here we will discuss One-time products.
 Using Google Play Billing in-app:
1-Add the Google Play Billing Library dependency to your app's build.gradle file.
 

implementation

'com.android.billingclient:billing:3.0.0'
And add these permission in the manifest file
<

uses

-

permission

android

:

name

=

"com.android.vending.BILLING"

/

>
2- In order to test or implement InApp Purchase / Subscription, we need a developer account and our app needs to be published either in alpha/beta/production level.
3-Now create a product or a subscription.   
We need to create the products which will be available for purchases on Google Play Console. We need to add Product ID, Title, and Subscription. Product ID should be unique for every product to be purchased.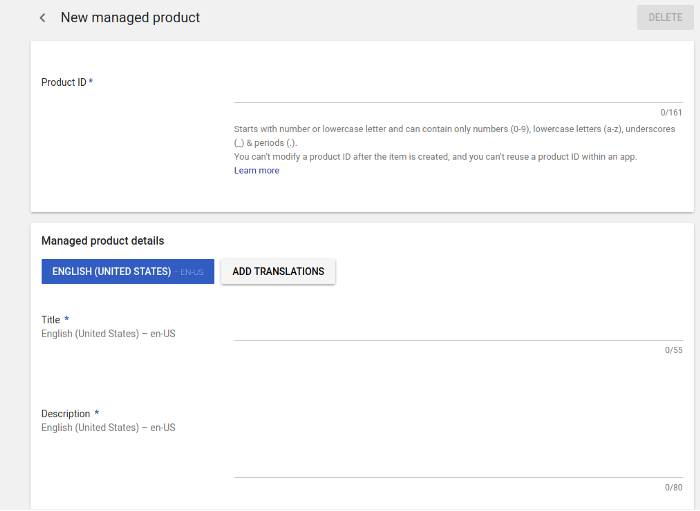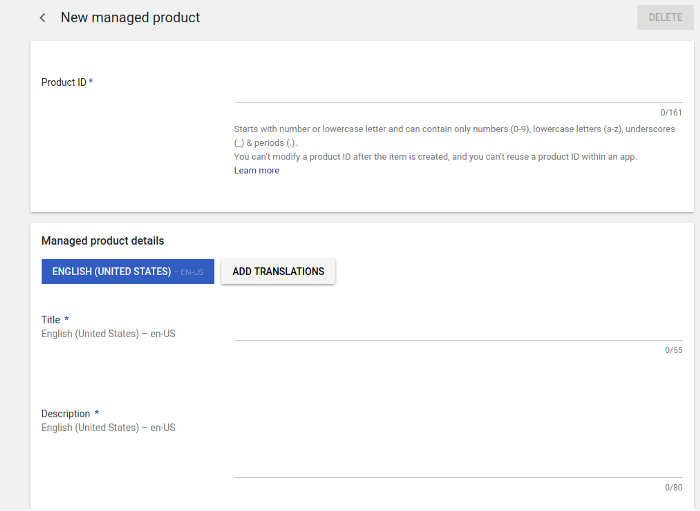 4- Create an Activity and its layout file.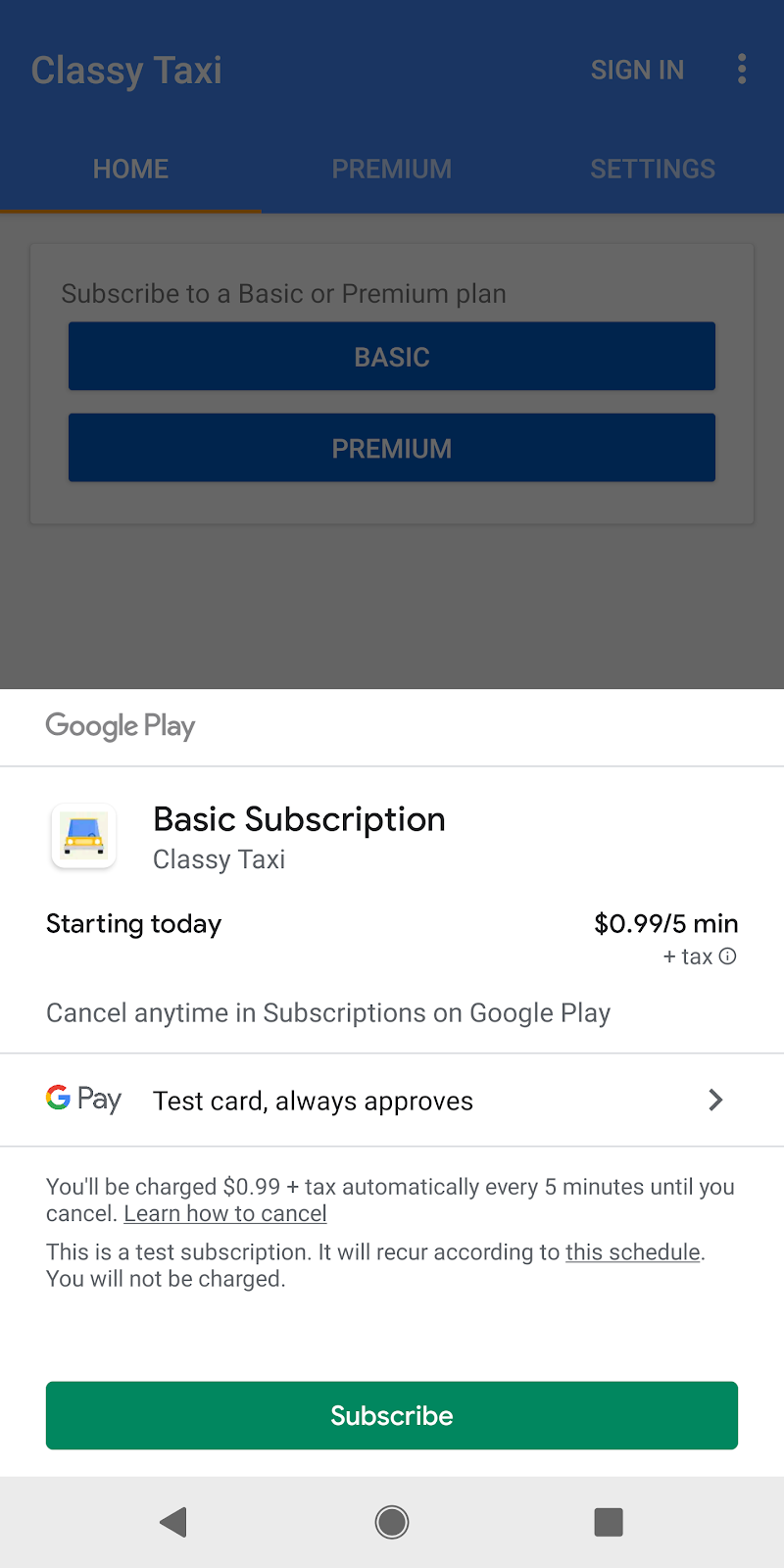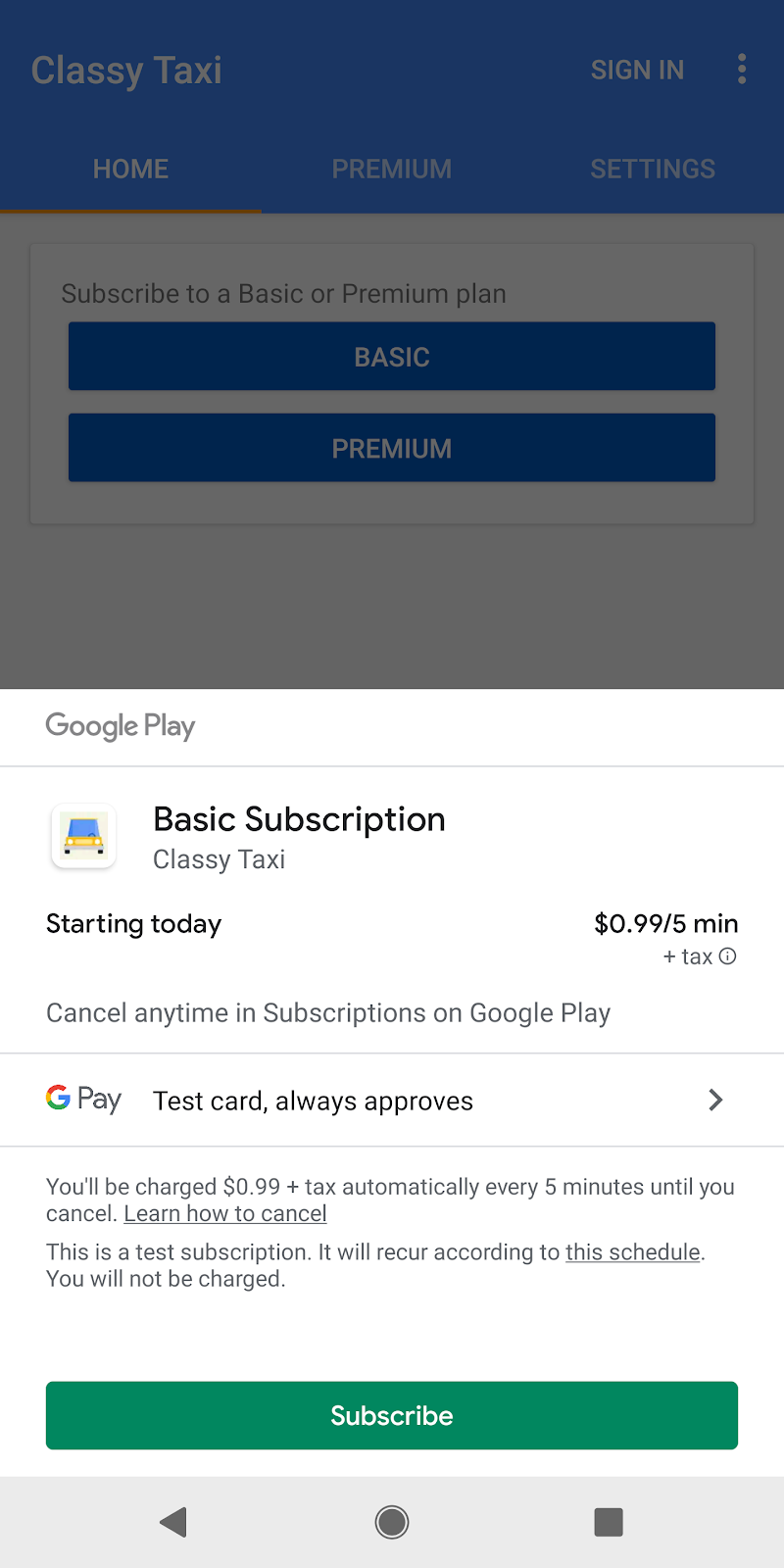 i-    XML file–
1

2

3

4

5

6

7

8

9

10

11

12

13

14

15

16

17

18

19

20

21

22

23

24

25

26

27

28

29

30

31

32

33

34

35

36

37

38

39

40

41

42

43

44

<?

xml

version

=

"1.0"

encoding

=

"utf-8"

?>

<

LinearLayout

xmlns

:

android

=

"http://schemas.android.com/apk/res/android"

    

xmlns

:

app

=

"http://schemas.android.com/apk/res-auto"

    

xmlns

:

tools

=

"http://schemas.android.com/tools"

    

android

:

layout_width

=

"match_parent"

    

android

:

layout_height

=

"match_parent"

    

android

:

orientation

=

"vertical"

>

        

android

:

id

=

"@+id/toolbar"

        

layout

=

"@layout/toolbar"

/

>

            

<

androidx

.

appcompat

.

widget

.

AppCompatButton

                

android

:

id

=

"@+id/proceedBtn"

                

android

:

layout_width

=

"@dimen/button_width"

                

android

:

layout_height

=

"@dimen/buttom_height"

                

android

:

layout_gravity

=

"center"

                

android

:

layout_marginTop

=

"@dimen/xlarge_margin"

                

android

:

layout_marginBottom

=

"@dimen/xlarge_margin"

                

android

:

background

=

"@drawable/dark_button_selector"

                

android

:

text

=

"@string/proceed"

/

>

  
ii- Activity file and steps
1

2

3

4

5

6

7

8

9

10

11

12

13

14

15

16

17

18

19

20

21

22

23

24

25

26

27

28

29

30

31

32

33

34

35

36

37

38

39

40

41

42

43

44

45

46

47

48

49

50

51

52

53

54

55

56

57

58

59

60

61

62

63

64

65

66

67

68

69

70

71

72

73

74

75

76

77

78

79

80

81

82

83

84

85

86

87

88

89

90

91

92

93

94

95

96

97

98

99

100

101

102

103

104

105

106

107

108

109

110

111

112

113

114

115

116

117

118

119

120

121

122

123

124

125

126

127

128

129

130

131

132

133

134

135

136

137

138

139

140

141

142

143

144

145

146

147

148

149

150

151

152

153

154

155

156

157

158

159

160

161

162

163

164

165

166

167

168

169

170

171

172

173

174

175

176

177

178

179

180

181

182

183

184

185

186

187

188

189

190

191

192

193

194

195

196

197

198

199

200

201

202

203

204

205

206

207

208

209

210

211

212

213

214

215

216

217

218

219

220

221

222

223

224

225

226

227

228

229

230

231

232

233

234

235

236

237

238

239

240

241

242

243

244

245

246

247

248

249

250

251

252

253

254

255

256

257

258

259

260

261

262

263

264

265

266

267

268

269

270

271

272

273

274

275

276

277

278

279

280

281

282

283

284

285

286

287

288

289

290

291

292

293

294

295

296

297

298

299

300

301

302

303

304

305

306

307

308

309

310

311

312

313

import

android

.

os

.

Bundle

;

import

android

.

view

.

MenuItem

;

import

android

.

view

.

View

;

import

androidx

.

annotation

.

NonNull

;

import

androidx

.

annotation

.

Nullable

;

import

androidx

.

appcompat

.

widget

.

AppCompatButton

;

import

com

.

android

.

billingclient

.

api

.

BillingClient

;

import

com

.

android

.

billingclient

.

api

.

BillingClientStateListener

;

import

com

.

android

.

billingclient

.

api

.

BillingFlowParams

;

import

com

.

android

.

billingclient

.

api

.

BillingResult

;

import

com

.

android

.

billingclient

.

api

.

ConsumeParams

;

import

com

.

android

.

billingclient

.

api

.

ConsumeResponseListener

;

import

com

.

android

.

billingclient

.

api

.

Purchase

;

import

com

.

android

.

billingclient

.

api

.

PurchasesUpdatedListener

;

import

com

.

android

.

billingclient

.

api

.

SkuDetails

;

import

com

.

android

.

billingclient

.

api

.

SkuDetailsParams

;

import

com

.

android

.

billingclient

.

api

.

SkuDetailsResponseListener

;

import

com

.

britishcouncil

.

ieltsprep

.

R

;

import

com

.

britishcouncil

.

ieltsprep

.

util

.

UiUtil

;

import

org

.

jetbrains

.

annotations

.

NotNull

;

import

java

.

util

.

ArrayList

;

public

class

tPurchaseActivity

extends

BaseActivity

implements

PurchasesUpdatedListener

,

ConsumeResponseListener

,

View

.

OnClickListener

{

   

private

BillingClient

mBillingClient

;

   

private

List

<

String

>

skusList

;

   

private

String

skuId

=

"product_1"

;

   

private

Purchase

purchaseDetails

;

   

protected

void

onCreate

(

Bundle

savedInstanceState

)

{

       

super

.

onCreate

(

savedInstanceState

)

;

       

setContentView

(

R

.

layout

.

activity_test_purchase

)

;

       

skusList

=

new

ArrayList

<>

(

)

;

       

// setting billing client for app in purchases

   

private

void

iniTView

(

)

{

       

AppCompatButton

proceedBtn

=

findViewById

(

R

.

id

.

proceedBtn

)

;

       

proceedBtn

.

setOnClickListener

(

this

)

;

   

/// 1- we setup the billing client

   

private

void

setUpBillingClient

(

)

{

       

mBillingClient

=

BillingClient

.

newBuilder

(

this

)

.

enablePendingPurchases

(

)

.

setListener

(

this

)

.

build

(

)

;

       

// 2- start the connection with Google Play

       

mBillingClient

.

startConnection

(

new

BillingClientStateListener

(

)

{

           

public

void

onBillingSetupFinished

(

@

NotNull

BillingResult

billingResult

)

{

               

/// client is ready do something

               

// The BillingClient is ready. You can query purchases here.

           

public

void

onBillingServiceDisconnected

(

)

{

               

UiUtil

.

showToast

(

"onBillingServiceDisconnected"

)

;

   

// 3 -  Here we can query and Show products available to buy

   

// 4-   Here we can handle the different errors if any occurs.

   

// Here Sku string is same as product id we have added on  Google Play Condole.

   

public

void

prepSKUSDetails

(

List

<

String

>

skusList

,

final

String

skuId

)

{

       

SkuDetailsParams

.

Builder

params

=

SkuDetailsParams

.

newBuilder

(

)

;

       

params

.

setSkusList

(

skusList

)

               

.

setType

(

BillingClient

.

SkuType

.

INAPP

)

;

       

mBillingClient

.

querySkuDetailsAsync

(

params

.

build

(

)

,

new

SkuDetailsResponseListener

(

)

{

           

public

void

onSkuDetailsResponse

(

@

NotNull

BillingResult

billingResult

,

List

<

SkuDetails

>

skuDetailsList

)

{

               

if

(

billingResult

.

getResponseCode

(

)

==

BillingClient

.

BillingResponseCode

.

OK

&&

skuDetailsList

!=

null

)

{

                   

for

(

SkuDetails

skuDetails

:

skuDetailsList

)

{

                       

String

skuName

=

skuDetails

.

getSku

(

)

;

                       

if

(

skuName

.

equalsIgnoreCase

(

skuId

)

)

{

                           

BillingFlowParams

flowParams

=

BillingFlowParams

.

newBuilder

(

)

                                   

.

setSkuDetails

(

skuDetails

)

                           

mBillingClient

.

launchBillingFlow

(

TestPurchaseActivity

.

this

,

flowParams

)

;

               

}

else

if

(

billingResult

.

getResponseCode

(

)

==

BillingClient

.

BillingResponseCode

.

FEATURE_NOT_SUPPORTED

)

{

                   

UiUtil

.

showToast

(

"FEATURE_NOT_SUPPORTED"

)

;

               

}

else

if

(

billingResult

.

getResponseCode

(

)

==

BillingClient

.

BillingResponseCode

.

SERVICE_DISCONNECTED

)

{

                   

UiUtil

.

showToast

(

"SERVICE_DISCONNECTED"

)

;

               

}

else

if

(

billingResult

.

getResponseCode

(

)

==

BillingClient

.

BillingResponseCode

.

SERVICE_UNAVAILABLE

)

{

                   

UiUtil

.

showToast

(

"BILLING_UNAVAILABLE"

)

;

               

}

else

if

(

billingResult

.

getResponseCode

(

)

==

BillingClient

.

BillingResponseCode

.

ITEM_UNAVAILABLE

)

{

                   

UiUtil

.

showToast

(

"SERVICE_UNAVAILABLE"

)

;

               

}

else

if

(

billingResult

.

getResponseCode

(

)

==

BillingClient

.

BillingResponseCode

.

SERVICE_TIMEOUT

)

{

                   

UiUtil

.

showToast

(

"SERVICE_TIMEOUT"

)

;

               

}

else

if

(

billingResult

.

getResponseCode

(

)

==

BillingClient

.

BillingResponseCode

.

DEVELOPER_ERROR

)

{

                   

UiUtil

.

showToast

(

"DEVELOPER_ERROR"

)

;

   

// 5-- we get the purchase update here, we process the purchases data according to our need.

   

public

void

onPurchasesUpdated

(

BillingResult

billingResult

,

@

Nullable

List

<

Purchase

>

purchasesList

)

{

       

if

(

billingResult

.

getResponseCode

(

)

==

BillingClient

.

BillingResponseCode

.

OK

               

&&

purchasesList

!=

null

)

{

           

for

(

Purchase

purchase

:

purchasesList

)

{

               

handlePurchase

(

purchase

)

;

       

}

else

if

(

billingResult

.

getResponseCode

(

)

==

BillingClient

.

BillingResponseCode

.

USER_CANCELED

)

{

           

// Handle an error caused by a user cancelling the purchase flow.

           

UiUtil

.

showToast

(

"cancelled"

)

;

       

}

else

if

(

billingResult

.

getResponseCode

(

)

==

BillingClient

.

BillingResponseCode

.

ITEM_ALREADY_OWNED

&&

purchasesList

!=

null

)

{

           

for

(

Purchase

purchase

:

purchasesList

)

{

               

if

(

purchase

.

getSku

(

)

.

equals

(

skuId

)

)

{

                   

purchaseDetails

=

purchase

;

                   

ConsumeParams

consumeParams

=

                           

ConsumeParams

.

newBuilder

(

)

                                   

.

setPurchaseToken

(

purchase

.

getPurchaseToken

(

)

)

                   

mBillingClient

.

consumeAsync

(

consumeParams

,

this

)

;

   

void

handlePurchase

(

Purchase

purchase

)

{

       

if

(

purchase

.

getPurchaseState

(

)

==

Purchase

.

PurchaseState

.

PURCHASED

)

{

           

// Grant entitlement to the user.

           

if

(

purchase

.

getSku

(

)

.

equalsIgnoreCase

(

skuId

)

)

{

               

purchaseDetails

=

purchase

;

               

// Acknowledge the purchase if it hasn't already been acknowledged.

               

ConsumeParams

consumeParams

=

                       

ConsumeParams

.

newBuilder

(

)

                               

.

setPurchaseToken

(

purchase

.

getPurchaseToken

(

)

)

               

mBillingClient

.

consumeAsync

(

consumeParams

,

this

)

;

   

public

void

onConsumeResponse

(

@

NonNull

BillingResult

billingResult

,

@

NonNull

String

s

)

{

       

if

(

billingResult

.

getResponseCode

(

)

==

BillingClient

.

BillingResponseCode

.

OK

)

{

                         

// here we can save the purchases data to our usel̥

   

public

boolean

onOptionsItemSelected

(

MenuItem

item

)

{

       

if

(

item

.

getItemId

(

)

==

android

.

R

.

id

.

home

)

{

       

return

super

.

onOptionsItemSelected

(

item

)

;

   

public

void

onClick

(

View

view

)

{

               

// query item you want to PURCHASE

               

prepSKUSDetails

(

skusList

,

skuId

)

;